Lynx SSL/TLS Decryptor
Lynx SSL/TLS Decryptor enables transparent SSL/TLS traffic decryption for further analysis by DLP/IDS/IPS systems.

The appliance works in transparent bridge mode intercepting selected network traffic. SSL sessions pass through Lynx SSL/TLS Decryptor transparently so the client software thinks it connects directly to the target server as it uses the original address of the target host. The decrypted network traffic is forwarded to the dedicated DLP/IDS/IPS device for evaluation. Lynx SSL Inspector encrypts data again and sends it over to the target server. The DLP/IDS/IPS systems can order Lynx SSL/TLS Decryptor to terminate the connection. Unencrypted traffic, which can also pass through Lynx SSL/TLS Decryptor, is forwarded to the IDS/IPS without being modified.
Insight
Integration with DLP, IDS, IPS systems provides them with the insight into encrypted data stream
High Efficiency
Allows feeding a coupe of external DLP, IDS, IPS with data simultaneously
Unburden
Reducing the load of security solutions by delegating decryption process
CA exchange
Transparent certificate exchange with use of Lynx SSL/TLS Decryptor
Simplicity
High throughput of the appliance allows to simplify the infrastructure
Features
signed and self-signed certificates handling
Server Name Indication (SNI)
OCSP support
decrypt once feed many
selective whitelisting based on categories
network bypass
whitelisting source and target hosts
whitelist subscription service
supports connections initialized as encrypted (such as HTTPS) as well as protocols, which can begin encrypted transmission by executing the StartTLS command (e.g. SMTP)
TLS SNI (Server Name Indication) extension support
---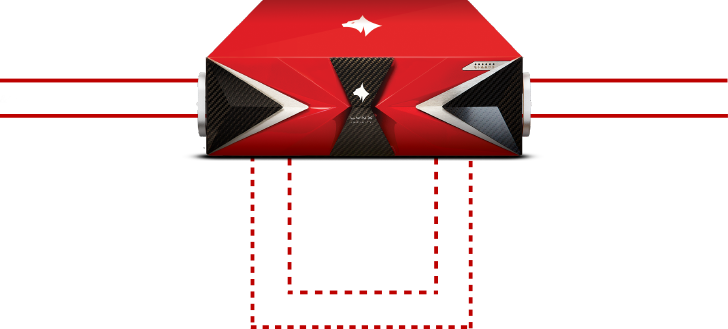 L1
L3
L10
L25
LInfinity
SSL/TLS Throughput
1Gbps
3Gbps
10Gbps
25Gbps
50Gbps
Concurrent SSL/TLS sessions
25,000
50,000
250,000
500,000
1,000,000
Full handshakes (RSA 1024 bit)
1,500/s
3,000/s
15,000/s
30,000/s
100,000/s
Full handshakes (RSA 2048 bit)
750/s
1,500/s
5,000/s
10,000/s
50,000/s
Maximum number of network interfaces
10×1 Gbps
10×1 Gbps
1×1 Gbps
24×1 Gbps
1×1 Gbps
24×1 Gbps
1×1 Gbps
32×1 Gbps
Size
1U
1U
2U
2U
3U
Contact Form
Are you interested in our products? Contact us.